Fuck, things are really going downhill. The pain is back, and it is constant.
The nurses came and suggested we go back to hospice house where they can adjust pain meds quicker. We declined, because she wants to die here and I want her to as well. Before she passed out again we were both in tears explaining that we can't go back there and they have to figure out an alternative.
The nurses consulted with the doctor and the current plan is to increase the Ativan to every four hours from six. They want to give the dulaudid level a day or two more to set in before adjusting that.
The increase in Ativan means she will be heavily sedated and sleeping pretty much 24 hours a day. A CNA will start coming out next week to assist me with some caretaking duties.
Until then, she is to stay in bed and go no farther than the bedside commode.
I can't see her breaking these rules - she's in bad shape.
I am afraid. Due to the dying process and the meds she's much more confused. I am now concerned if the last lucid conversation I had with her will indeed be the final one.
Last night after her shower she spent several minutes meticulously straightening her bedside drawer. Another sign the end is near? That she's preparing everything? I don't know.
The furkids are stuck to the bed (and me) like Velcro. Excuse my appearance but I am fucking hot mess this week.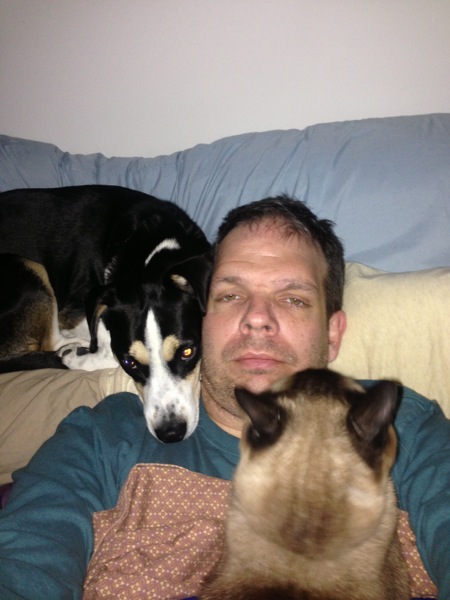 Billy Jo's mom and stepdad were here over two hours and she was up for one minute at the beginning and one at the end. The pain is still evident and I continue to hit the button when I notice it. They do not want me hitting it on a schedule because I will collapse from exhaustion.
A few friends stopped by and she was awake for a few of those minutes as well.
Billy Jo really wasn't awake at all for Erin's visit this afternoon so we had a 1-on-1 talk. It was very helpful. From books I have read, even when Billy Jo is non-responsive she is hearing and understanding. I am constantly telling her I love her. Today I added a bunch to it, in front of Erin. The words were said. I have to think they were heard, too (even though I didn't receive a response). I told her I love her. And that she's not alone, that I will be ok on my own, that it's ok to let go - that she fought one hell of a fight and now it was time to rest, that she'll always be in my heart and she'll always be looking over me. I tell her not to be scared.
She tells me she's not scared.
A few hours later this thought enters my head:
"I think I can finally let go."
Maybe that was the missing part of this equation.
Billy Jo,
I love you.. And you're not alone. I will be ok on my own. It's ok to let go - you fought one hell of a fight and now it is time to rest. You'll always be in my heart and you will always be looking over me.
Don't be scared.
I love you.